Job Description
Description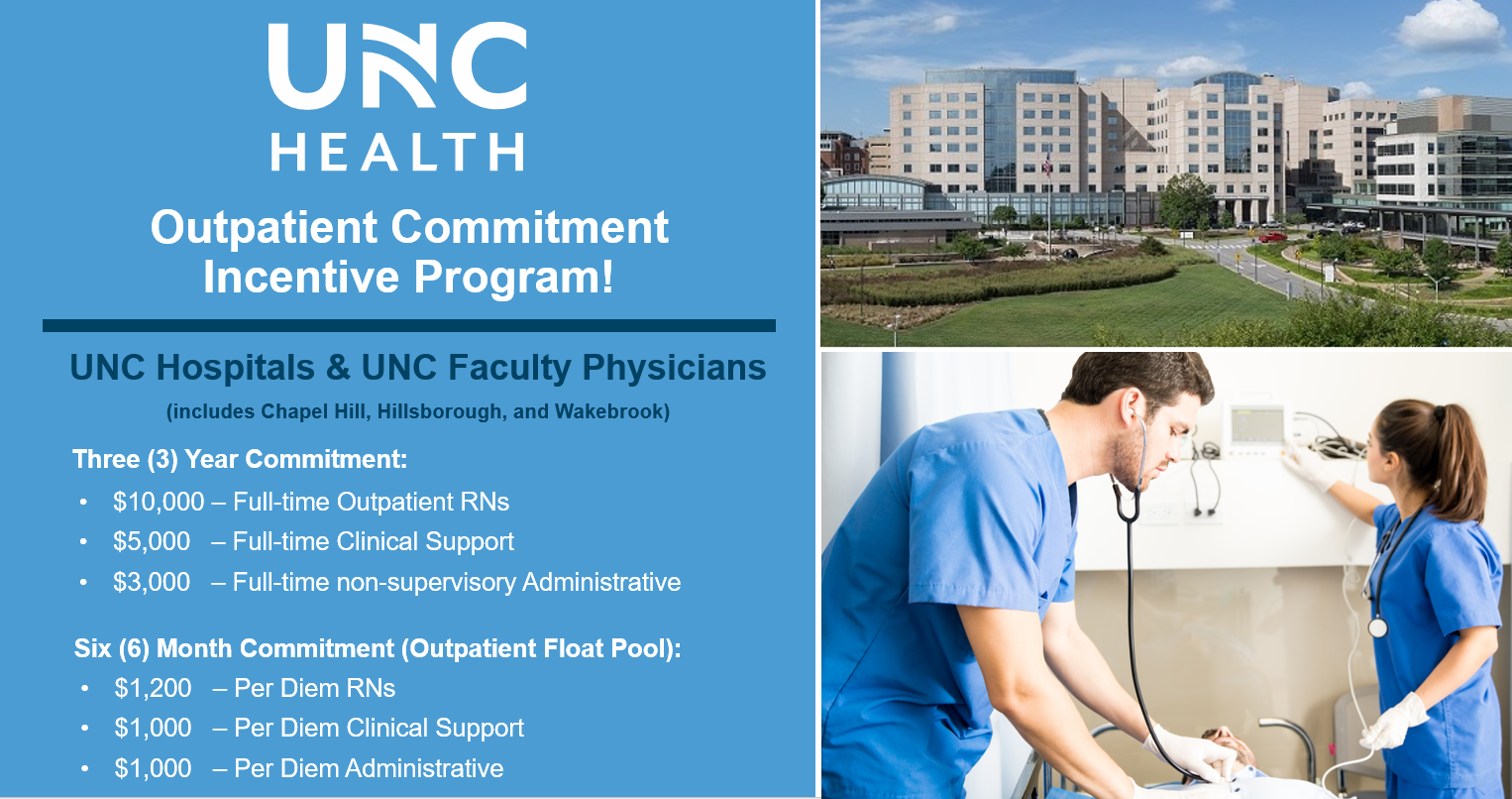 Learn more about our UNC Hospitals RN Incentive Program here:https://jobs.unchealthcare.org/pages/unc-medical-center-unc-faculty-physicians-outpatient-commitment-incentive-program
Per Diem RN needed for Oncology Outpatient Infusion Center

This is a per diem/temporary position requiring a minimum of 24 hours worked each month, schedule is flexible based on RN and clinic needs. Day/Evening/Weekend/Holiday rotation. No benefits.
Per diem RN needed for the Adult Oncology Infusion Center to work with a collaborative, supportive team in a high-volume outpatient setting. Our team is a diverse group committed to compassionate and comprehensive care of each patient along their cancer journey. In an effort to provide comprehensive care to our patients, our Infusion Center encompasses multiple treatment modalities including procedural care, phlebotomy/lab draws, chemotherapy/biotherapy infusions, blood product administration, Bone Marrow Transplant patient care, clinical trial administration and monitoring, and urgent care visits. We also provide education and emotional support to our patients and families through their visits. As a per diem position, we're seeking applicants with strong IV skills and previous infusion experience.
If hired, a week of clinical orientation would be required before beginning work schedule.
Become part of an inclusive organization with over 40,000 diverse employees, whose mission is to improve the health and well-being of the unique communities we serve.

Summary:
Provides competent clinical nursing care consistent with professional standards. Reporting and accountable to the Nurse Manager/Director, the Clinical Nurse is responsible for coordinating and delivering patient care utilizing the nursing process in a hospital setting.
Responsibilities:

1. Education - Participates in identifying and meeting learning needs of self. Attends education programs based on identified learning needs. With assistance, uses patient education materials relevant to patient population. Assesses readiness to learn of the patient/family/caregivers. Assesses developmental level of patient and factors affecting ability to learn.
2. Evaluation of Care - Identifies expected patient outcomes. Seeks guidance as needed in revision of plan of care. Participates in discussion with members of the interdisciplinary team in evaluation of patient care. Communicates relevant information to promote continuity of care.
3. Implementation - Demonstrates competence in care of patients with complex problems, including population-appropriate physical, psychosocial, educational and safety aspects of care. Performs bedside point of care testing as required for patient care plan. Utilizes healthcare organization and nursing standards, policies and procedures in delivery of care. Organizes and prioritizes care according to patient/family needs. Consults with appropriate resources in a timely fashion regarding patients with complex care issues, unusual teaching needs and/or those at high risk for discharge planning.
4. Leadership - With assistance, develops goals to promote professional growth or minimize limitations. Achieves goals and objectives within identified time frame or renegotiates with supervisor. Is knowledgeable about activities which facilitate intra/interdepartmental collaboration. Participates in development and achievement of unit goals and performance improvement activities. Effectively uses communication systems. Participates in promoting cost-effective care. Gives feedback to co-workers. Is aware of public policy and regulatory guidelines affecting the health care environment. Promotes a safe, clean and secure hospital environment for all.
5. Patient Assessment - Recognizes data from complex situations to determine priorities for care. Includes appropriate physical, psychosocial, education and safety needs. Synthesizes assessment data into meaningful whole prior to communication to others. Assesses and anticipates discharge needs of individual patients and families. Develops relationships with families that promote their ability to advocate for the patient and their own needs.
6. Planning - Collaborates with patient/family to prepare or update the plan of care. Makes use of available multidisciplinary resources in planning care. Begins to use full range of communication as a means to convey planning. Identifies and addresses cultural and ethnic issues in planning patient care. Demonstrates ability to prioritize tasks for patients with complex problems.
7. Research - Reads journals that contain studies or articles that may be applicable to practice. Brings ideas and questions to the staff at large for assessment of applicability.

Other Information
Other information:
Education Requirements:
● Graduation from a school of professional nursing.
Licensure/Certification Requirements:
● Licensed to practice as a Registered Nurse in the state of North Carolina.Basic Life Support (BLS) for Healthcare Provider certification
Professional Experience Requirements:
● One (1) year of relevant and current experience required
Knowledge/Skills/and Abilities Requirements:

Job Details
Legal Employer: STATE
Entity: UNC Medical Center

Organization Unit: Oncology Op Infusion Center
Work Type: Per Diem

Standard Hours Per Week: 6.00
Work Schedule: Day Job
Location of Job: US:NC:Chapel Hill
Exempt From Overtime: Exempt: No
This is a State position employed by UNC Health Care System.

Qualified applicants will be considered without regard to their race, color, religion, sex, sexual orientation, gender identity, national origin, disability, or status as a protected veteran.

UNC Health makes reasonable accommodations for applicants' and employees' religious practices and beliefs, as well as applicants and employees with disabilities. All interested applicants are invited to apply for career opportunities. Please email applicant.accommodations@unchealth.unc.edu if you need a reasonable accommodation to search and/or to apply for a career opportunity.